Complex Systems in Sport Research Group - Emerging group 2014 SGR 975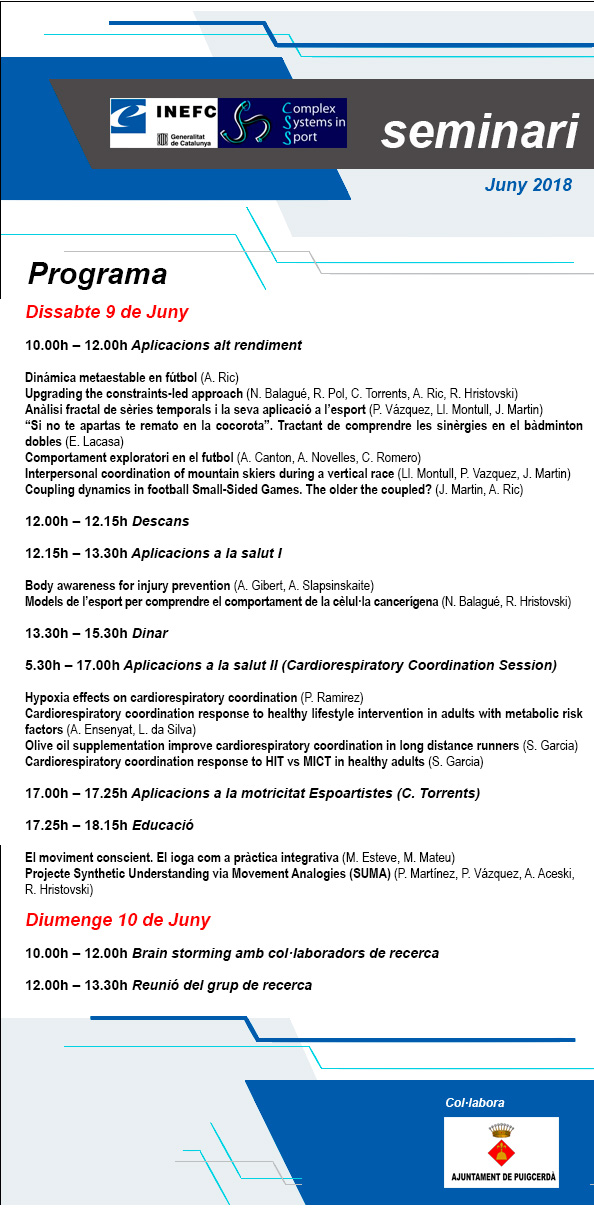 Seminar 2018 of the Research Group Complex Systems in Sport
This year our annual seminar will take place in Vilallobent, a small village of the Pyrenees close to the French border. The 9-10th June we aim to share in a rural environment our research projects, discussions and walks with colleagues and friends of the group. The language of the presentations will be the more convenient for the participants (catalan, english or spanish). The accommodation is planned at the rural tourism Cal Marrufes (Age) http://www.calmarrufes.cat/; however, it is possible to find many other possibilities in the area.  Interested persons should contact with the research group coordinator nataliabalague@gmail.com for further details.
The group's seminar ends after an exciting weekend surrounded by great and generous people sharing all the knowledge generated during the 2017-18 academic year. Thanks to all members, guests and attendees. We are waiting for you in 2019!
We will participate in the founding symposium of UBICS (UBICS day 2018) with the presentation: Percolation as a general protective mechanism. You can sign up for free! More information...
World renowed matematicians discussing our work on low-dimensional mind dynamics in a top-notch scientific journal for nonlinear dynamics: "Mind-to-mind heteroclinic coordination: Model of sequential episodic memory initiation"  CHAOS 28, 053107 (2018) See the text...