Synthetic understanding of natural and social phaenomena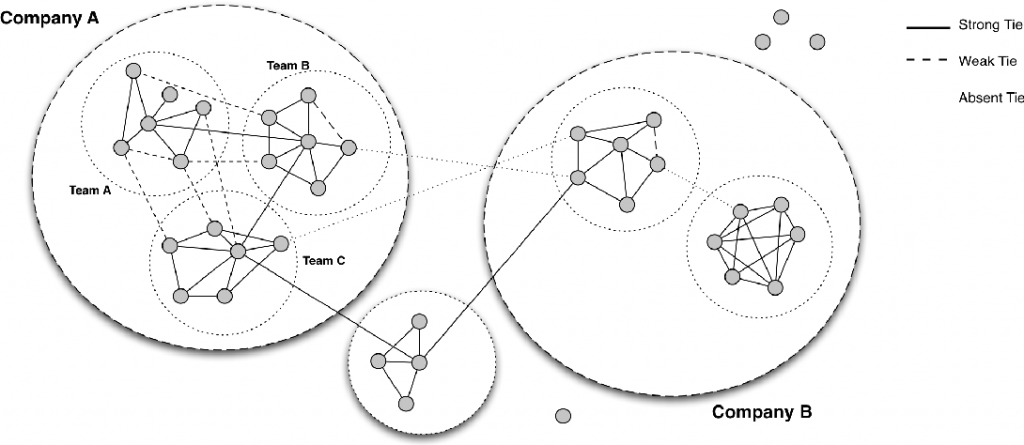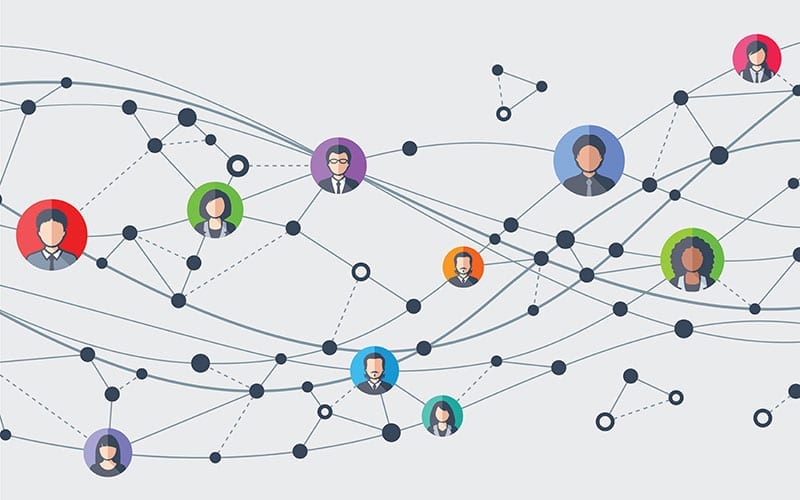 Proyect: SUMA – Synthetic understanding through movement analogies
Financed by: University of Ss. Cyril and Methodius (Faculty of Physical Education Sports and Health)
Institutions: Ss. Cyril and Methodius University, INEFC-University of Barcelona, INEFC-University of Lleida
Duration: 2015 – 2019
Participants: Natàlia Balagué, Carlota Torrents, Pablo Vázquez, Aleksandar Aceski
Main researcher: Robert Hristovski
Proyect: Exploratory dynamics of motoricaly and perceptually grounded concepts coming from the complex systems theories.
Financed by: University of Ss. Cyril and Methodius (Faculty of Physical Education Sports and Health)
Institutions: Ss. Cyril and Methodius University, INEFC-University of Barcelona, INEFC-University of Lleida
Duration: 2012-2013
Participants: Natàlia Balagué, Carlota Torrents, Pablo Vázquez, Aleksandar Aceski
Main researcher: Robert Hristovski
Proyect: Toward a model and application of interdisciplinary connections of sports and physical education with other areas of academic knowledge based on the theoretical concepts of complex systems.
Financed by: University of Ss. Cyril and Methodius (Faculty of Physical Education Sports and Health)
Institutions: Ss. Cyril and Methodius University, INEFC-University of Barcelona, INEFC-University of Lleida
Duration: 2011-2012
Participants: Natàlia Balagué, Carlota Torrents, Pablo Vázquez, Aleksandar Aceski
Main researcher: Robert Hristovski
Cardiorrespiratory coordination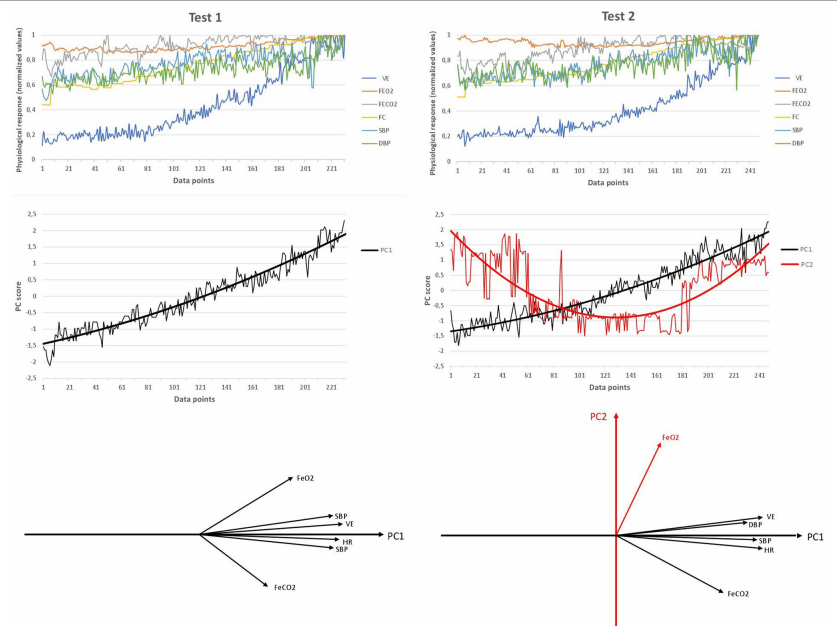 Proyect: Cardiorespiratory coordination. Effects of exhausting exercise and training
Institutions: Ss. Cyril and Methodius University, INEFC-University of Barcelona, INEFC-University of Lleida
Duration: 2014 – 2016
Participants: Robert Hristovski, Sergi Garcia, Josep Lluis Ventura, Casimiro Javierre, Daniel Aragonés
Main researcher: Robert Hristovski
Psychobiology of exercise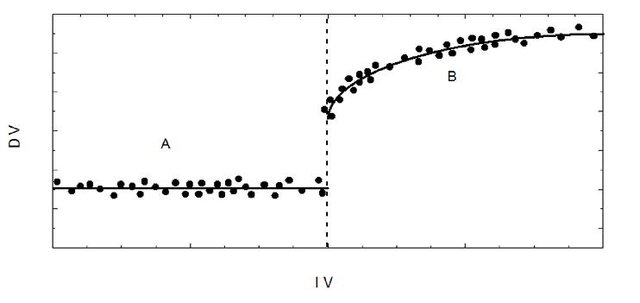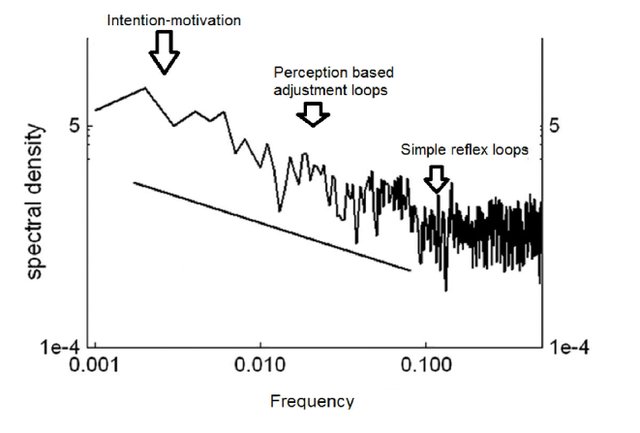 Proyect:Psychobiological model of exercise-induced fatigue. Nonlinear dynamic perspective
Financed by: INEFC- AGAUR
Institutions: INEFC-University of Barcelona, INEFC-University of Lleida, Ss. Cyril and Methodius University
Duration: 2013 – 2016
Participants: Robert Hristovski, Carlota Torrents, Pablo Vázquez, Sergi Garcia, Agnė Slapšinskaitė, Cecilia Aguirre, Daniel Aragonés, Selen Razon, Gershon Tenenbaum
Main researcher: Natàlia Balagué
Creativitat i accions motores emergents a l'activitat física i l'esport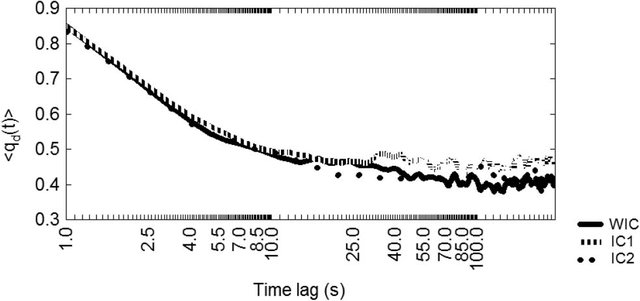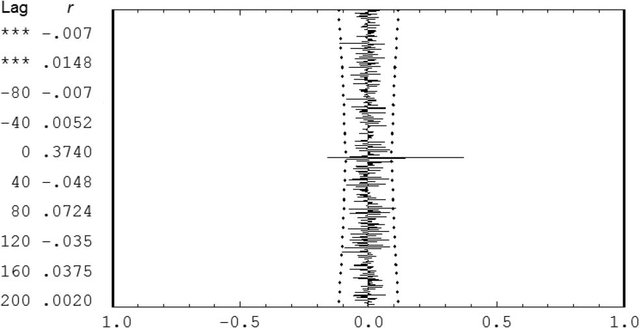 Proyect: Creativitat i accions motores emergents a l'activitat física i l'esport. Aplicacions pràctiques en diferents poblacions
Financed by: AGAUR
Institutions:  INEFC- University of Lleida, St. Cyrius and Methodius University-Technical University of Lisbon
Duration: 2014 – 2017
Participants: Carlota Torrents, Ángel Ric, Natàlia Balagué, Lorena Torres, Mercè Mateu, Robert Hristovski, Jaime Sampaio, Bruno Gonçalves
Main researcher: Carlota Torrents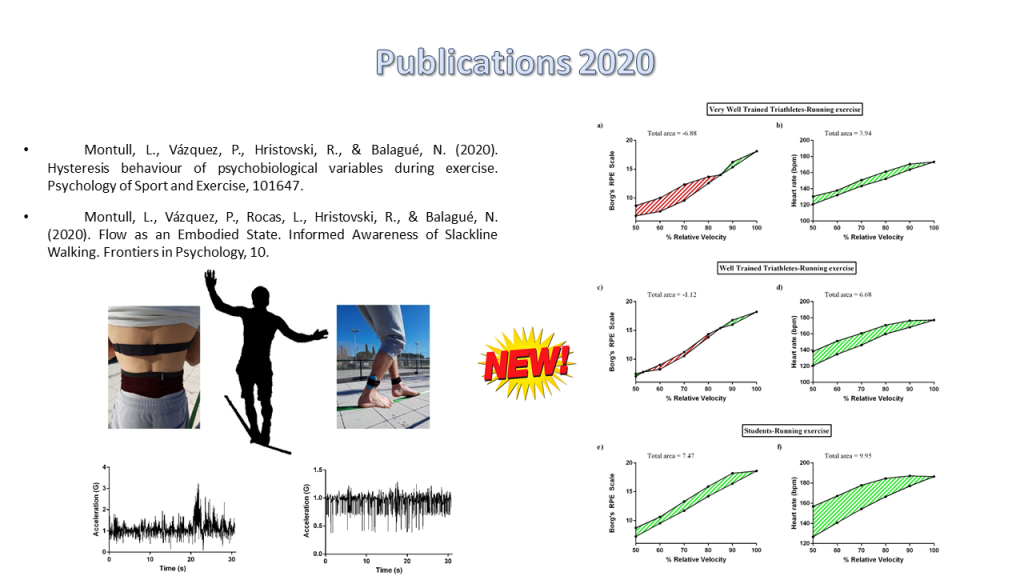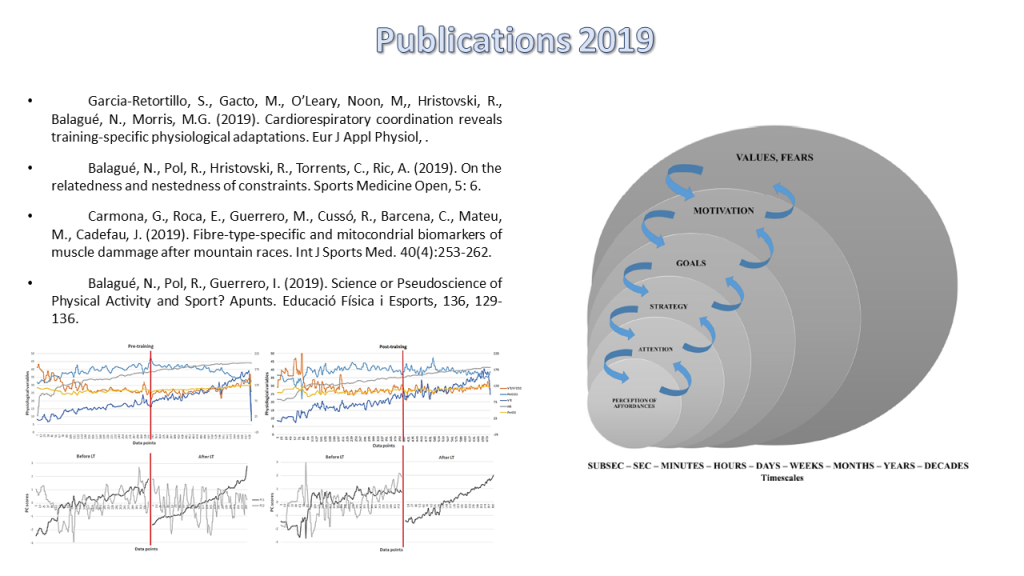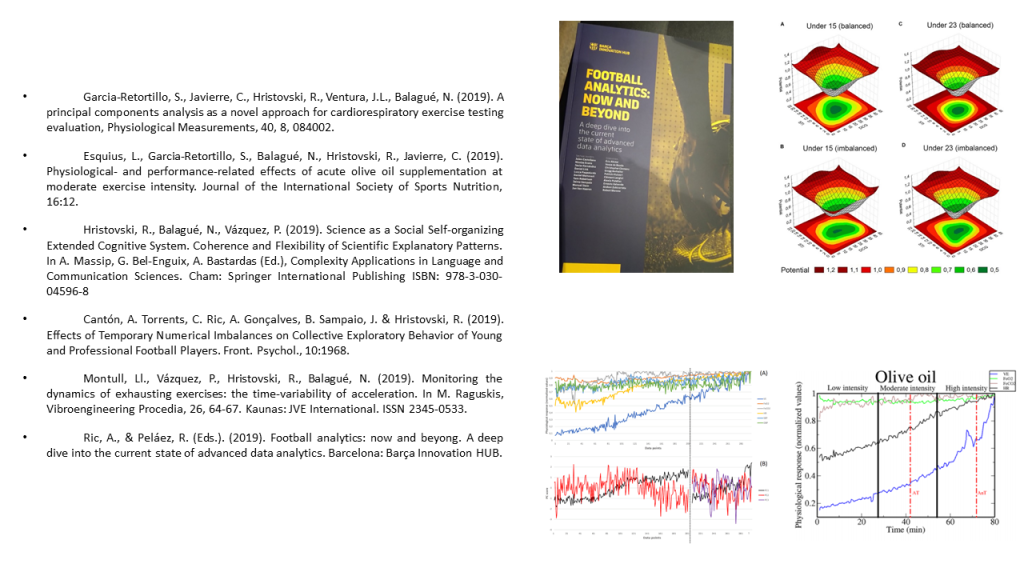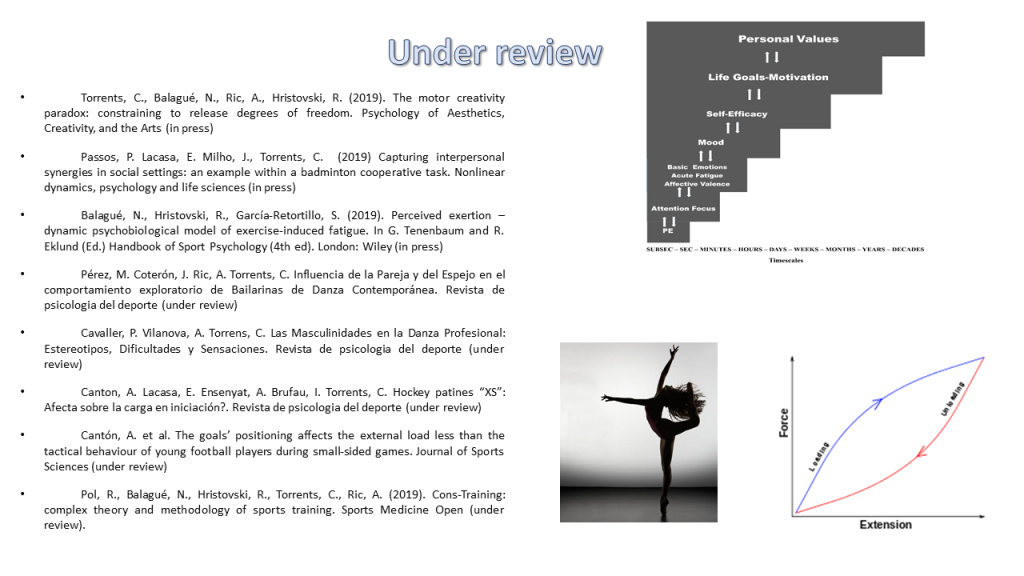 Complex Approach on Sports Science